Posts for: June, 2019
By Today's Dentistry
June 19, 2019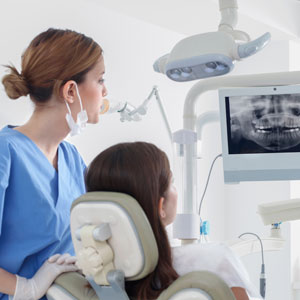 Although cancer treatment has advanced steadily in recent decades, the most used therapies continue to be radiation and chemotherapy to eradicate cancerous cells. And while they often work, both can cause "collateral damage" in healthy tissues near the targeted cells.
This can create a number of indirect consequences for a patient's health, including in the mouth. The salivary glands, for example, can be damaged by radiation treatments aimed at the head or neck. The effect on these glands can interrupt the normal flow of saliva and cause xerostomia or "dry mouth."
Lack of adequate saliva causes more than an unpleasant, sticky mouth feeling. One of saliva's main functions is to neutralize acid that builds up naturally after eating. Without it, high acid levels can cause enamel and root surface erosion and lead to tooth decay.
Cancer treatment can also contribute to gastro-esophageal reflux disease (GERD). This disease causes stomach acid to bypass the natural tissue barriers of the esophagus and enter the mouth. As with dry mouth, the increased acid level from GERD can be just as devastating to enamel—and the damage will be permanent.
To minimize these effects on your dental health, it's important to take proactive steps before, during and after cancer treatment. If at all possible, have any needed dental work performed before you begin radiation or chemotherapy—it's better to start it with teeth and gums as healthy as possible.
During treatment, try to continue regular dental visits to monitor your oral health and receive any needed preventive or therapeutic treatments. Depending on your condition and the advice of your dentist, you may need to increase your visit frequency during this time. Your dentist can help with boosting your saliva production and strengthening your tooth enamel. But you should also practice daily brushing and flossing, drink plenty of water and seek treatment for any resulting GERD symptoms.
Even with the best efforts, though, your teeth and gums may still incur damage while treating your cancer. Fortunately, there are a wide array of materials and procedures that can effectively restore them to health. So, once your treatments are completed consult with a dentist on your options for improving the health and appearance of your teeth and gums.
If you would like more information on caring for your teeth while undergoing intensive medical treatment, please contact us or schedule an appointment for a consultation.
By Today's Dentistry
June 09, 2019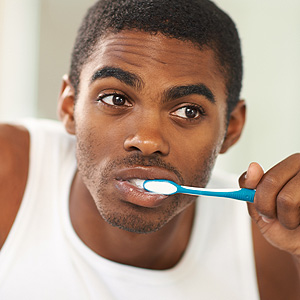 While tooth decay seems to get most of the "media attention," there's another oral infection just as common and destructive: periodontal (gum) disease. In fact, nearly half of adults over 30 have some form of it.
And like tooth decay, it begins with bacteria: while most are benign or even beneficial, a few strains of these micro-organisms can cause gum disease. They thrive and multiply in a thin, sticky film of food particles on tooth surfaces called plaque. Though not always apparent early on, you may notice symptoms like swollen, reddened or bleeding gums.
The real threat, though, is that untreated gum disease will advance deeper below the gum line, infecting the connective gum tissues, tooth roots and supporting bone. If it's not stopped, affected teeth can lose support from these structures and become loose or out of position. Ultimately, you could lose them.
We can stop this disease by removing accumulated plaque and calculus (calcified plaque, also known as tartar) from the teeth, which continues to feed the infection. To reach plaque deposits deep below the gum line, we may need to surgically access them through the gums. Even without surgery, it may still take several cleaning sessions to remove all of the plaque and calculus found.
These treatments are effective for stopping gum disease and allowing the gums to heal. But there's a better way: preventing gum disease before it begins through daily oral hygiene. In most cases, plaque builds up due to a lack of brushing and flossing. It takes only a few days without practicing these important hygiene tasks for early gingivitis to set in.
You should also visit the dentist at least twice a year for professional cleanings and checkups. A dental cleaning removes plaque and calculus from difficult to reach places. Your dentist also uses the visit to evaluate how well you're doing with your hygiene efforts, and offer advice on how you can improve.
Like tooth decay, gum disease can rob you of your dental health. But it can be stopped—both you and your dentist can keep this infection from ruining your smile.
If you would like more information on preventing and treating gum disease, please contact us or schedule an appointment for a consultation.