Posts for tag: fillings
By Today's Dentistry
May 24, 2018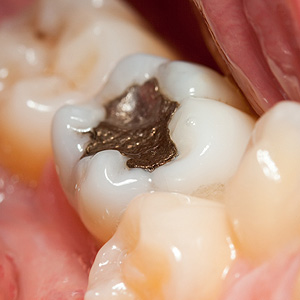 With all the new tooth-colored fillings for cavities, it's easy to overlook metal amalgam. While this mainstay of dental care for over a century might not be as attractive as composite resins or glass and resin ionomers, it still has the advantage of strength and durability.
Amalgam is a stable metal alloy usually made up of silver, tin, copper and mercury. The metals are proportioned and mixed precisely to guard against "free" mercury molecules, which could pose a health hazard. The mixture is pliable at first, but then sets hard once molded into the prepared area of the tooth.
Besides strength, amalgam's other advantages include low cost, high resistance to wear and biocompatibility (not toxic to the body or allergy-producing). At the same time, it can require more tooth structure removal to accommodate a filling and cause higher sensitivity to temperature for a while after installation. Its main disadvantage, however, is appearance — it's now considered unacceptable from an aesthetic point of view to use it in visible areas like the front teeth.
Because of this, materials resembling natural tooth color are coming into vogue, especially as their strength improves. Still, dental amalgam continues to play a useful role, especially in less visible back teeth with higher chewing forces.
One past concern about dental amalgam is the inclusion of mercury in the alloy. As mentioned before, mercury is hazardous in a "free" form when not knit microscopically with other metals; as such it can emit a vapor that could enter the bloodstream and damage the nervous system. But after several studies by various organizations, the American Dental Association has concluded amalgam's precise mixture prevents the mercury from taking this form: although some vapor is given off during chewing it's far too low in concentration to pose any danger.
Dental amalgam continues to be an effective choice for fillings. Whether it's the right choice for you will depend on the type and location of a tooth to be filled, and whether durability is a higher concern than appearance. If we do recommend an amalgam filling, you can be assured it's a safe and lasting choice.
If you would like more information on your choices for dental fillings, please contact us or schedule an appointment for a consultation. You can also learn more about this topic by reading the Dear Doctor magazine article "Silver Fillings — Safe or Unsafe?"
By Today's Dentistry
December 27, 2017
Are you suffering from tooth decay? Have you considered tooth-colored fillings? Here in Chicago, IL, our dentist, Dr. Mark Gamalinda, can
help you get the smile you want.
Fillings and Dental Bonding in Chicago
In order to prepare your teeth for the composite, your dentist will:
Clean your teeth to ensure they're plaque-free.
Then he'll etch your teeth with an acidic gel that will open pores on the surface of your teeth.
The dentist will then apply composite resin that matches the color of your teeth.
The last step consists of the composite being hardened in place with a curing light and shaping your teeth into the right form.
Advantages of Tooth-colored Composite
Tooth-colored fillings, also known as composite resin, can be accomplished in one visit
The procedure may take about 30 minutes to an hour, depending on your dental needs
The composite used is made of plastic resin and finely ground glass-like particles, which won't allow your teeth to turn gray over time
Your teeth will look natural, so you won't feel self-conscious when you smile
The composite strengthens your teeth, so you don't have to worry about applying too much pressure
Maintaining your New Bonding
Dental bondings require the same care as all your teeth. Be sure to brush your teeth twice a day, after breakfast and before bed, and floss at least once before going to sleep at night. This will help keep your teeth healthy and avoid new cavities invading your new tooth-colored fillings.
Consultation
For more information about tooth-colored fillings and how they can improve the appearance of your smile, call our Chicago, IL, dentist, Dr. Mark Gamalinda, today to schedule an appointment!